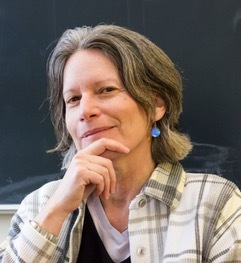 Jenny Price is a public writer and artist. She tells stories about environmental justice, especially, and deploys a wide variety of public arts and humanities formats to do so.
As a writer, she has tried to challenge how Americans think about environment, economy, public space, guns, and Los Angeles. Her writings include Stop Saving the Planet: An Environmentalist Manifesto (2021); Flight Maps: Adventures with Nature in Modern America; "Thirteen Ways of Seeing Nature in L.A." and other essays; op-eds in the NY Times and LA Times; and her not-quite advice column "Green Me Up JJ."
She has created, co-created, and sometimes stumbled into public art projects to work for environmental justice, as well as to de-privatize essential public spaces. She has co-founded the St. Louis Divison and LA Urban Rangers collectives, led tours of the concrete LA River, designed the alternative Nature Trail in Laumeier Sculpture Park, and co-created the popular Our Malibu Beaches mobile phone app.
She has a Ph.D. in history from Yale University, and argues fanatically for the superpowers of the arts and humanities. She has an A.B. from Princeton University, where she was a bio major and girl ornithologist—and her favorite spring bird is the blackburnian warbler.
She has had generous fellowships to support her work—for longer-term support, from angel investors NEH, Huntington Library, Guggenheim Foundation, Rachel Carson Center, Laszlo N. Tauber Foundation, UCLA, and Princeton University. She has returned to Princeton several times, as the Anschutz Distinguished Fellow in American Studies, the Barron Visiting Professor in the Environment & the Humanities, and an Atelier teaching artist. With the LA Urban Rangers, she has been thrilled to be an artist and/or resident at MOCA, Pulitzer Arts Foundation, Orange County Museum of Art, and Cooper Hewitt, Smithsonian.
In 2016—after 15 years in the wilds of L.A.—she returned to her hometown St. Louis, where she is a Research Fellow at the Sam Fox School of Design & Visual Arts at Washington University. She is currently writing about U.S. gun violence, while developing a suite of projects—solo and with St. Louis Division—to tell stories about justice and environment in the city where she grew up and where these topics are legend.